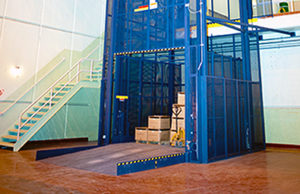 No one wants to start a workday having to cart heavy boxes or packages of materials up or down a bunch of stairs. A vertical lift allows these items to move from one floor to the next with little effort.
Multi-Level Operations
Businesses that operate on more than one level to produce items for market are sometimes in a quandary when it comes to moving heavy materials and products from one level to another. Not every building has service elevators for convenience. A vertical lift is one way to solve this problem. You can install a lift that has the capability of transferring as much as 500-pounds of weight.
The Risks of Carrying Heavy Weight Up Flights of Stairs
Trying to carry heavy loads of materials up a flight of stairs is the perfect set-up for employee injury. Even if there is a dolly present, the strain on the legs, back, arms and shoulders will eventually lead to health problems. Losing control of the dolly can cause other employees injuries, or your materials and goods end up demolished.
Bring Finished Products Down
If your manufacturing or assembly area is located on the floor above, a vertical lift will make it a simple process to move the finished products to the lower floor for shipment. It provides options for companies that are limited in usable space.
Perfect for Upper-Level Renovations
Vertical material lifts such as the ones offered through a company like Verticon can make any upper floor renovation project easier. You can send all of the compact, heavy building materials up the lift, which saves time and energy for your renovation crew.
Safe and Easy to Use
The electronic vertical lifts are safe when used properly. The control box is easy to operate and takes very little time to learn how to get material or products from one level to another. The conveyor system scoots the items out so that employees can stand back from the lift as a safety precaution.
The solution to your material moving problems could reside in a well-designed vertical lift. The safety of your materials, products, and employees is better managed by using the right equipment meant for carrying heavy loads.